Product Description
S20 new special steel has been widely used in the field of steel structure building, structure and outdoor engineering facilities, which greatly improves the corrosion resistance of steel.Special steel, also called alloy steel, is a kind of steel.Special steel is to add one or several alloy elements in the carbon steel to make the structure of the steel change, so that the steel has various special properties.This new material is also being widely used, which is also a great breakthrough in science and technology. S20 new special steel has strong anti-corrosion ability and long service life.Solar Street Light ,Solar Street Light Pole,Solar Street Light Battery,Solar Street Light Advantages,Solar Street Light ,Solar Street Light Pole,Solar Street Light Battery Manufacturer in China,Graphene Products,Molded Graphene,Thermal Conduction Type Graphene,Enhancement Type Graphene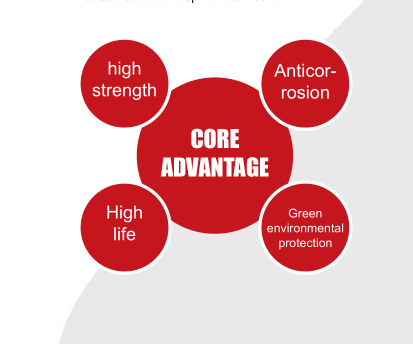 No coating, no maintenance for life

:

Steel body surface gradually formed in atmospheric environment is very compact, ultra-thin, solid oxide layer (layer passivation), state of the passivation layer is very stable and not easy to fall off, after the formation of small influenced by environmental corrosion, (galvanized anti-corrosion standards under the process of corrosion in 8-10 years)

Save money:The lowest 300 to 500 yuan/ton of soil zinc plating, the standard process should be at least 1000 yuan/ton, each square meter has zinc, the price is different.The environmental protection department, the ministry of industry and information technology and the national development and reform commission are all vigorously attacking the market.And galvanized material is very scarce, the price increases year by year.Eliminate rust, spray and other anti-corrosion measures, save cost.

National steel standards and other strengths:The strength of steel is equivalent to the standard strength of pu steel.




Green environmental protection:The pollution environment is eliminated: sandblast pollution environment, brush primer brush oil;Galvanizing, pollution is very serious, soil zinc is very serious to soil, water quality, air pollution.




Weatherability is superior to common weather resistant steel:With the increase of the use time, the passivation layer density increases, and the protective ability of passivation layer is strengthened with the extension of corrosion time.




Complete resistance to atmospheric corrosion of the structural process system with supporting installation technology and supporting bolts connecting pieces and welding materials, with quality assurance.
Comparison of atmospheric corrosion resistance of different metal materials